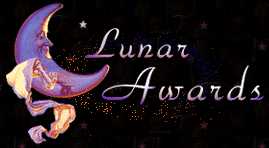 What are the Lunar Awards?
They're another way for us to recognize outstanding home pages at NeoCities. The winners of our yearly Lunar Awards will be the cream of the crop -- pages that exceed the standards of our Featured Pages and our daily Cool Page picks. The Neo-Neighborhoods Team will choose three winners.
What do I need to do to win one?
First, create a really great site -- something original, well designed and entertaining. You can use the criteria for the Featured Page Program as a guide.
What do I get if I win?
A cool award for your site and bragging rights!
We'll also post links to the winners' sites on the Lunar Awards page.
Everyone at NeoCities is eligible for the Lunar Awards, but you'll have a better chance of being nominated if you are already in the Featured Page Program.